Skip to end of metadata
Go to start of metadata
Macrium Reflect uses the standard Windows task scheduler to schedule backup jobs. To ensure that tasks can run when no users are logged on to the computer it is necessary to supply a Windows user account and login password. These are the same details that are used when you login to Windows: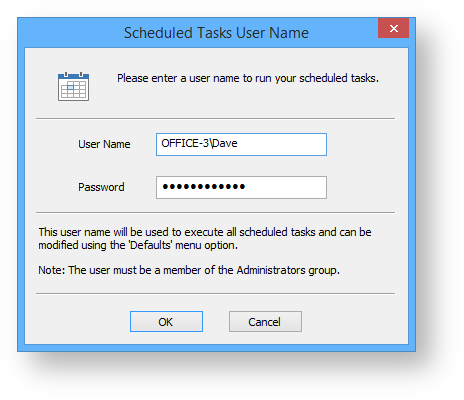 How do I see what my actual user account name is?
The actual account name can be different to the name used at the Windows login screen. If you are having difficulty finding your user account name then:
Click the Windows start button and type:

For more information on starting a command prompt please see Running an elevated command prompt

 

In the command prompt window, type:

 

The screen-shot shows that the user account currently logged on is Richard.

Note: for Windows XP, the command is: 

I don't use a password but the scheduler is prompting for one
If you don't use a password when logging into Windows your system might have been set to automatically log you in with a saved password. To reset your password:
Click Windows key
Type netplwiz and press Enter.

Check Users must enter a user name and password to use this computer and click Apply.

3. To manage/change your user account password press Ctrl+Alt+Del.