Skip to end of metadata
Go to start of metadata
Update Settings can be access by clicking 'Configure' in the Windows toast notification, or by taking 'Other tasks' > 'Edit Defaults and Settings' > 'Update Settings'
Note: Notifications must be set 'On' in the Windows 10 Notifications Center to receive update notifications, however, emails, if configured, will be sent regardless.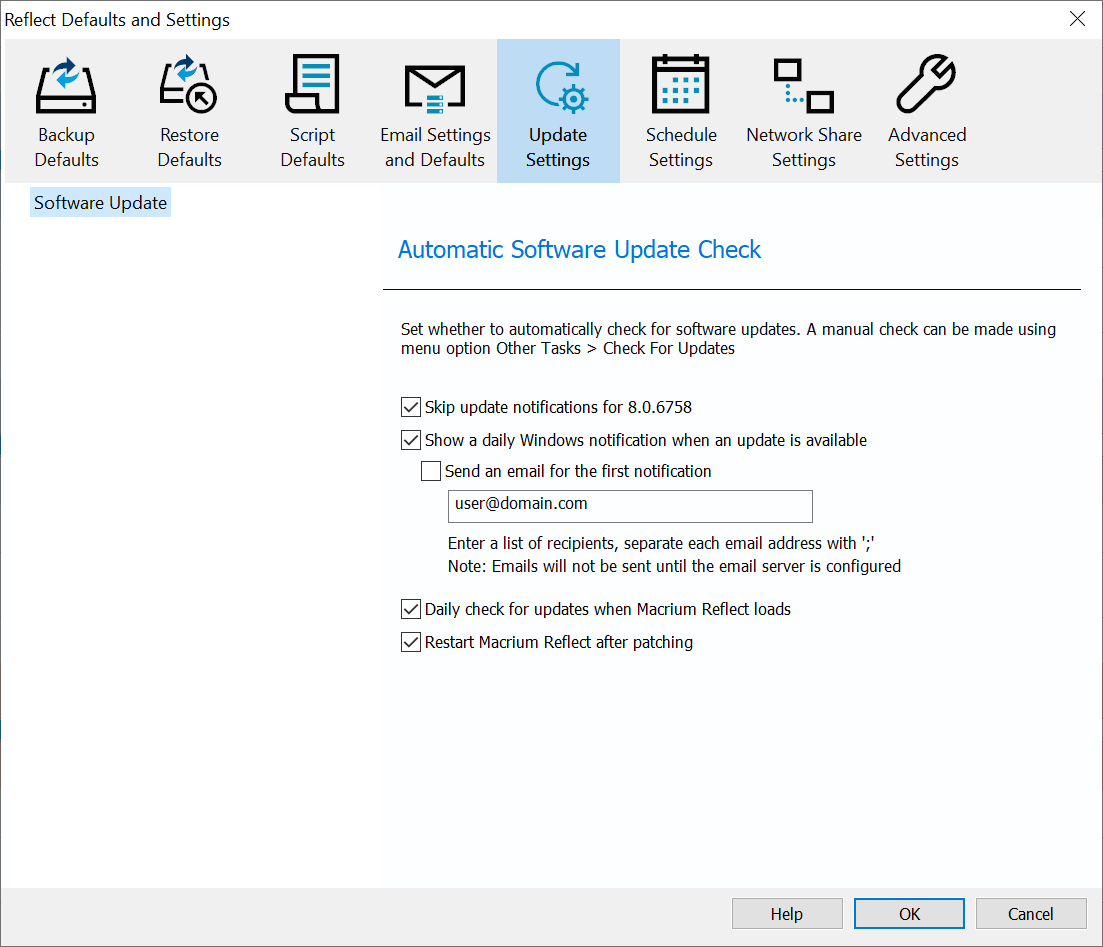 | | |
| --- | --- |
| Skip update notifications for v8.x.xxxx | This check box is only visible if the current installation is out of date. If checked, then Windows toast notifications, and the daily check when Reflect starts, will be suppressed for the release version in the check box text. |
| Show a daily Windows notification when an update is available | When an update is available, a Windows toast notification will persist above the task bar notification area until dismissed, or Macrium Reflect is updated. If dismissed, then the notification will not show for the rest of the current day.. |
| Send an email for the first notification | An email informing of the available update will be sent to the recipient list when the first notification for the update is shown. Please ensure that the email server/provider is configure by clicking the 'Settings' button. |
| Daily check for updates when Macrium Reflect starts | When Macrium Reflect starts for the first time each day, an update check will display the update download dialog if a later version is found. Applies only when interactively starting Macrium Reflect with the user interface visible. |
| Restart Macrium reflect after patching | If the update is supplied as a binary patch rather than a full installer, Macrium Reflect will automatically restart after successful patching. |
Notifications for Macrium Reflect software updates are handled slightly differently in v8.0. Previously, a Windows notification would be shown every hour if Macrium Reflect wasn't at the latest version. We've changed this to show a persistent, but dismissible, Windows toast notifications when an update is available. Once dismissed, the notification won't be shown again for that day. There's also a new option to skip all future notification for the current latest release.


Note: If the buttons are hidden in the notification history list, then click the down arrow to reveal:



Click 'Update' to download.
Click 'Configure' to open the Software Update Settings dialog: