Skip to end of metadata
Go to start of metadata
The Log view page has been extensively redesigned in v8 to make locating logs much easier. We've also improved the performance when accessing and searching large quantities of logs, as may be necessary when running
Intra-Daily backups
.
The Log View now has a 'Filter' tab that lists logs according to the filter selections at the top of the tab:


Tab switch on log open:
If enabled, a double click or taking the 'View' toolbar or context menu option will cause the newly opened log tab to be selected and opened.
If not enabled, the log list will retain the focus and the newly opened log tab will glow for a short time to draw attention to its location.
Clear Filters:
Returns all filter options to the default 'All' state.
Type:

All Types
Image
Image Restore
File Folder Backup
File Folder Restore
Clone

Activity




All Logs
Today
Last 7 Days
Last 30 Days
Latest
In Range

Status

Successful
Failed
Warning
Cancelled

Backup Definition:
All backup definitions with a log for the selected type.
The 'View Latest' toolbar button provides a quick shortcut to show the latest logs of the selected status or for all statuses: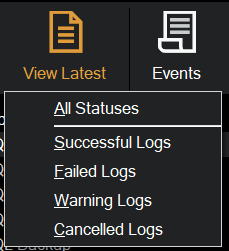 Double clicking a log line, or taking the 'View' context menu opens the selected log in a new tab:


The latest tab opened is inserted to the right of the filter tab, and has sub tabs for the HTML log, VSS log, and for File and Folder, lists of copied and deleted files.
Error logs have red color coded tabs, and all tabs show an icon indicating the log 'state'.