Info
Note: It isn't absolutely necessary to unlock a BitLocker encrypted drive when restoring an image of the encrypted partition. The partition will restore without
a problem and will be automatically
problems but will require re-
encrypted
encrypting on reboot
, however, unlocking
.

Unlocking the drive in Windows PE enables intelligent sector copy imaging and cloning, RapidDelta Restore (RDR) and also free access to the drives contents using PE Explorer. In addition, restoring to an unlocked drive will retain the encryption status of the drive when rebooting.
Automatically unlocking BitLocker encrypted drives
Macrium Reflect can include the components and decryption keys necessary to automatically to unlock Microsoft BitLocker encrypted drives in Windows PE.
In the Rescue Media Wizard select 'Include optional components' and 'Automatically unlock BitLocker encrypted drives'.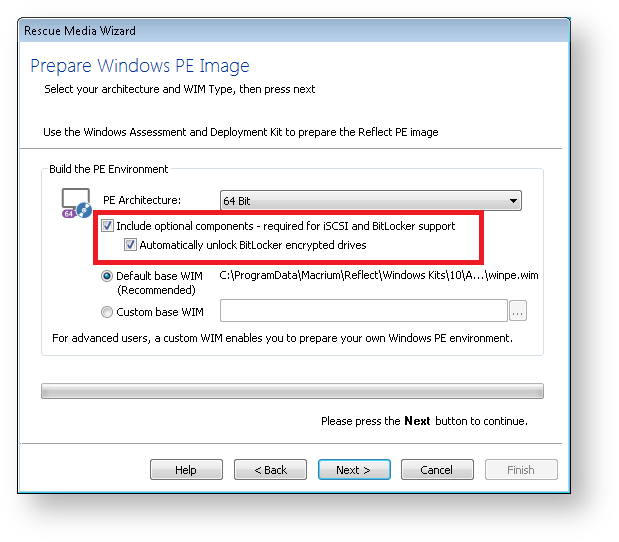 When Windows PE starts any BitLocker unlocked locked drives that are were attached when the recovery media was created it will be automatically unlocked in PEthem.
...
Unlocking BitLocker encrypted drives using a USB stick

...