Skip to end of metadata
Go to start of metadata
When creating or scheduling a scheduled task in Macrium Reflect you may see the following error  message: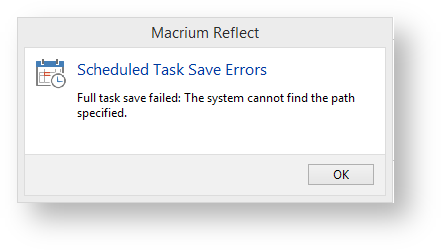 ---
If your system is running either ESET Smart Security or ESET NOD32 anti-virus you will need to add Macrium Reflect created scheduled tasks to their Exclusions list:
Open ESET Smart Security or ESET NOD32 Antivirus and press F5 to open Advanced Setup.


Expand Computer > Antivirus and antispyware > Exclusions.



Click 'Add' and enter C:\Windows\System32\Tasks\Macrium-Backup*  to allow Reflect scheduled tasks to execute without being blocked.

Note: You must add the asterisk character after 'Macrium-Backup' to ensure that all tasks are excluded.
---