Skip to end of metadata
Go to start of metadata
Problem
After installation of Macrium Reflect Server Plus, it is not possible to see the local SQL instances installed on the Server. The Connect dialog is shown as follows: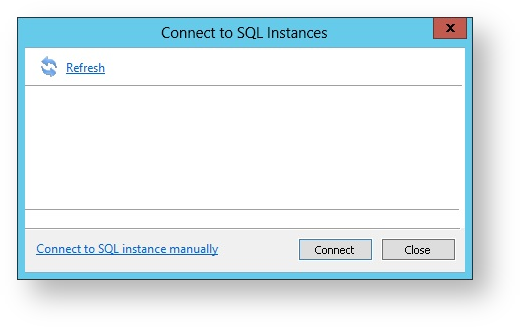 Solution
The simplest solution is to click the Connect to SQL instance manually link at the bottom of the dialog. This enables you to enter the instance name and login details. If these are valid, the instance will be added to the list above. If the instance is the default MSSQLSERVER instance, you can also use local or (local) keywords to connect to the instance.


The primary reason that Macrium Reflect can not discover locally installed instances of SQL is because the SQL Server Browser Service has been disabled or stopped. There may be genuine reasons for disabling the SQL Server Browser, but without it, it is only possible to connect manually to instances. If you want the option of Reflect discovering instances automatically, you can enable the Browser service by opening the Windows Services dialog and performing the following steps:



Locate the SQL Server Browser Service, right click and select Properties
Change the Startup type drop down list from Disabled to Automatic and hit the Apply button
The Start button should become enabled. Click this.
Restart Reflect and local SQL instances should become visible automatically.