...
Once rules are configured, press next to move to the next step.
Step 3 - Options
...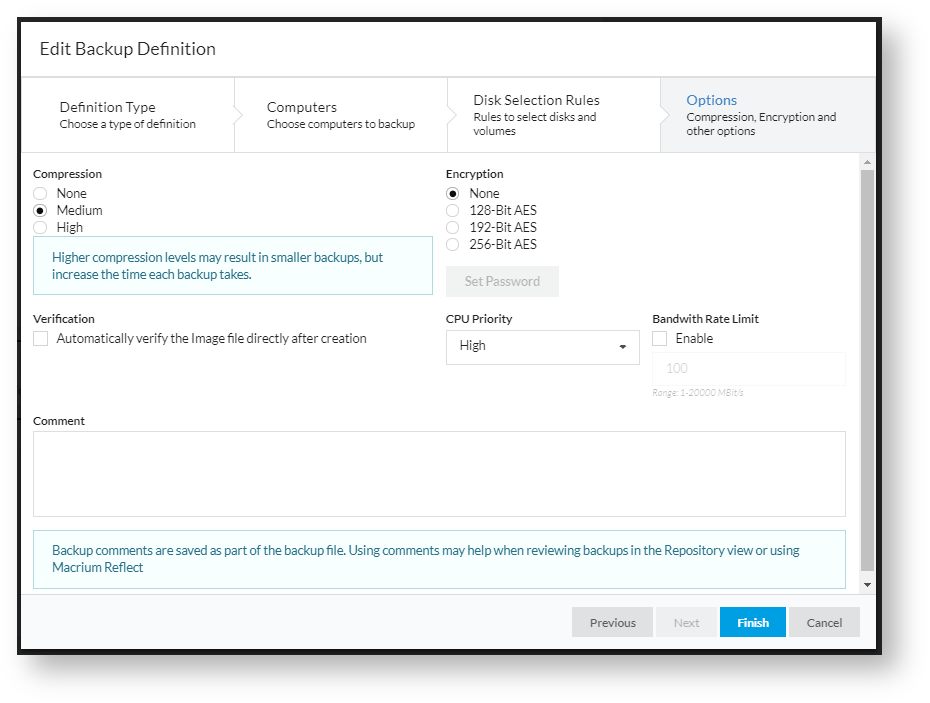 Image Added
In step 3, options for how the backup files are created are set. 
Backup Option
Description
Compression
The level of compression to use in any backup files created when using this Backup Definition. The default level is 'Medium'.
Encryption
The type of encryption to use on any backup files created from this Backup Definition. If AES encryption is used, a password must be entered using the 'Set Password' button.
Verification
If this option is selected, backup files will be reread and verified immediately after creation.
Comment
If a comment is entered here it will be saved as part of any backup files created and be visible to any restore tools.

CPU Priority

The CPU priority to run the backup process as. Lower priorities may result in the backup taking longer if there is contention for CPU resources. The default priority is 

High

Bandwidth Rate Limit

If enabled, a rate limit can be set for writing to the repository. This will limit the write rate to a specified number of MBit (megabits) per second. This can be used to help manage bandwidth when performing large numbers of backups.

Info

In the backup progress, a higher transfer rate than the rate limit may be displayed. This is because the transfer limit counts the amount of data read from the source disk and saved into the backup file without including compression. 

After backup is completed, the read and write rate are shown in the backup log.
Once the options are set appropriately, press finish to complete the wizard and save the Backup Definition. If there are any errors or issues with saving the Backup Definition, the wizard will not close and an error message will be displayed. If appropriate any affected fields will be highlighted in red. 
...