The Rescue Media Wizard
...
From the Backup tab of the task pane, below Other Tasks, click Create bootable Rescue media.
...
| | |
| --- | --- |
| title | Explanation of the 'Change PE version' dialog... |
...
Info
A device driver is a collection of files (also referred to as a driver package) and generally comprises of:
The driver software, these files have a .SYS extension.

The driver information, or INF, file which contains the installation instructions for the drivers, these files have a .INF extension.

An optional security catalog that signs those drivers for operating systems that require signed drivers, commonly used on x64 operating systems, these files have a .CAT extension.

One or more optional supporting software library files (Dynamic Link Library) that contain further code to support the driver software, these files have a .DLL extension.
...
...
| | |
| --- | --- |
| title | Example of adding a device driver... |
The sequence below shows an example of adding a device driver to the Windows PE build: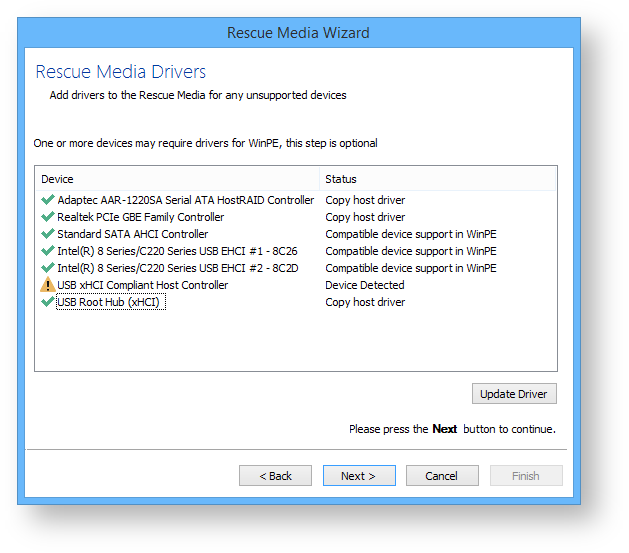 Image Removed
In the above example a driver is missing for a USB Controller. This is indicated by the

Image Removed  icon next to the device description.
Info
Note: You do not need to install missing drivers for devices that you do not intend using from WinPE. 
Supported devices have a status of either:
Device Support in WinPE

Compatible Device Support in WinPE

Copy Host Driver

Driver already present in Drivers folder
...
Click the 'Update Driver' button to search for a compatible driver.
This presents a wizard. This wizard is straightforward to use, the first page prompts you for a folder to scan for drivers and whether you want to include all sub-folders.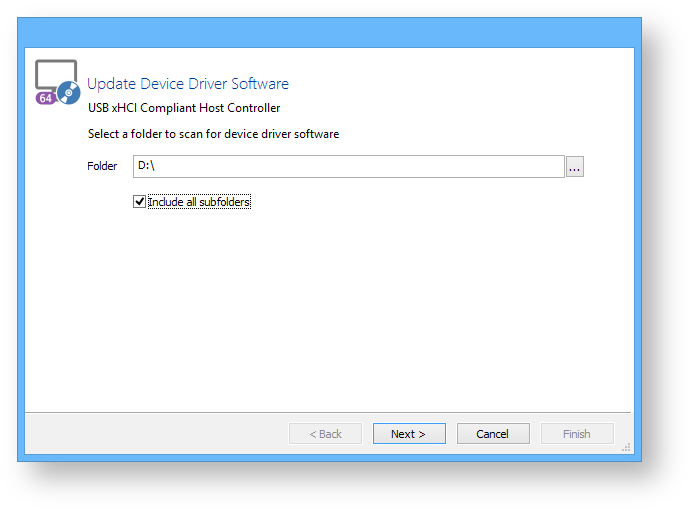 Image Removed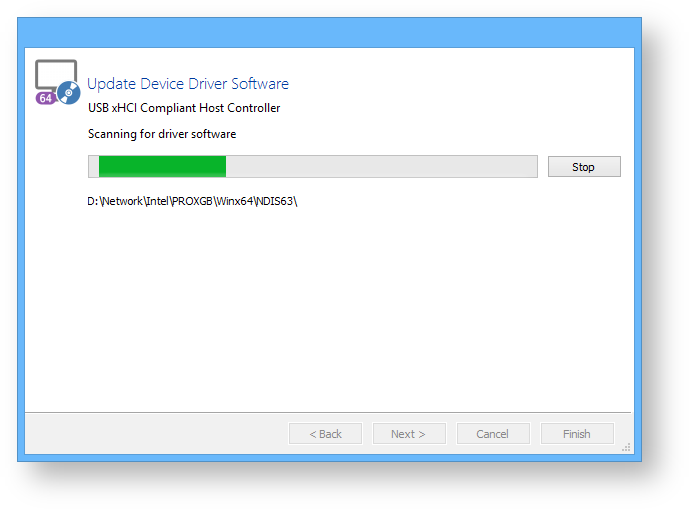 Image Removed
A compatible driver is found. Select it and click Next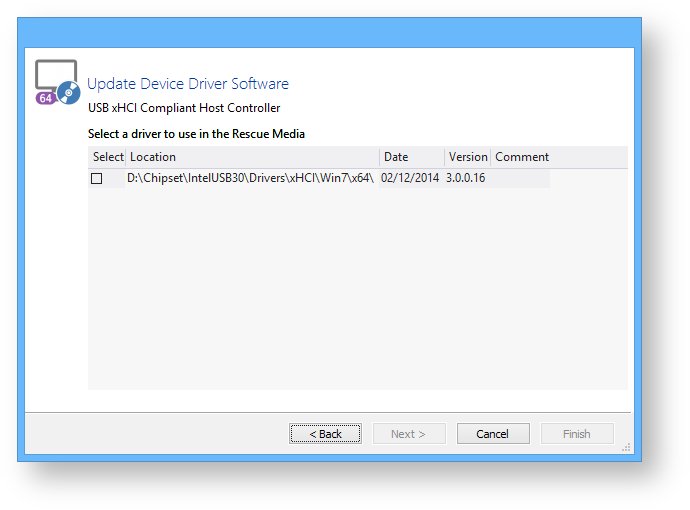 Image Removed
The device now has a green tick next to it to indicate compatibility with Windows PE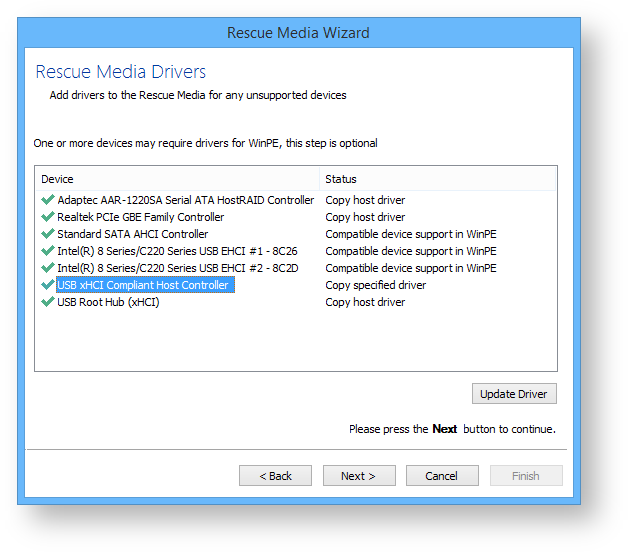 Image Removed
...
Info
Note:
If you have already built the Windows PE image for this rescue media then the wizard will skip this step and advance to the
Burn page
...
...
Info
A detailed log of the build process is saved to: 'C:\ProgramData\Macrium\waik\waiklog.txt'
...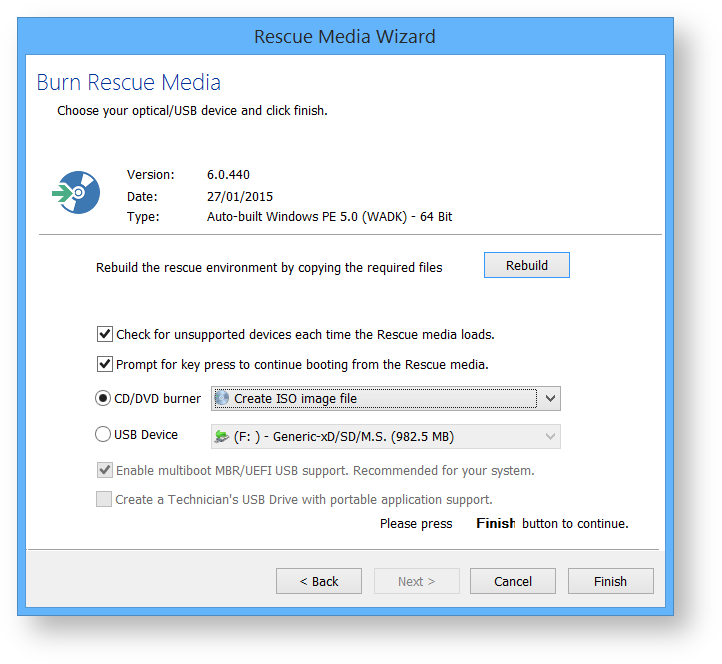 Image Removed
Option

________________

Description

Rebuild

Click this button to advance to the 'Prepare Windows PE image' wizard page to rebuild the Windows Image (WIM).
...
Check for unsupported devices

Select this option and Windows PE will prompt to add drivers for unsupported Network Interface and Disk controllers when started.

Prompt for key press

Select this option to enable the

'Press any key to boot from CD or DVD...'

prompt when your PC starts. This is useful if you want to bypass Windows PE and boot into your host Windows OS.

CD/DVD burner

Select this option to choose a CD/DVD device that you are using to create your rescue media.
...
USB Device

Select this option to save your rescue media to a bootable USB stick or external hard drive.

Enable multiboot MBR/UEFI

Only applies if you are saving your rescue media to a USB device. This option enables the USB device to boot both legacy MBR and GPT/UEFI for modern motherboards. Please consult your motherboard user manual for information on choosing these boot options at PC startup.

Info

Note:

CD/DVD media is always created multi-boot MBR/UEFI

Technicians USB

Applies to Macrium Reflect Technicians license keys  only. See

Technicians portable application support

for more information
...
To complete the process, boot from your Rescue media to ensure it works correctly.
...
Info
If you are using USB media, you can make the Macrium Rescue Environment compatible with multiple computers:
Use the Rescue media wizard to create a bootable USB rescue device on one computer.

 Repeat the process with each other computer in turn using the same USB device. 
Once I have created rescue media, will it work on all my computers?
If the hardware for all your computers is supported by the default Windows PE driver set, then the answer is a simple yes. You can confirm this on the Rescue Media Wizard drivers page. If all the drivers listed have the status Device support in WinPE or Compatible device support in WinPE for each of your machines then you only need one rescue media.
If any of your machines require extra drivers, then you have three options:
...
Note: Options 2 and 3 only work if all your machines are configured to use the same version of PE with the same architecture (i.e. they are all 32-bit or all 64-bit).
If my rescue media refuses to boot, what should I do?
...
Rescue Media Builder

Macrium Rescue Media Builder